---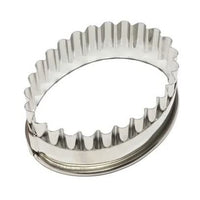 LAST ONE! Sadly, Anis-Paradies has reduced their factory and no longer supply us with these cutters. Fluted (scalloped) oval cookie cutter imported from Switzerland. This is a stainless steel cutter, professional grade, built to last for a lifetime of baking. It has a rolled top for comfort gripping. It is the same model that we use in our bakery. It fits:

Anis-Paradies Santa Claus is Coming to Town 1094
Anis-Paradies Winter Forest Animals: Deer and Rabbits 3028
Anis-Paradies Three Kings in Oval
All other Anis-Paradies oval molds of the size 

4.1" x 3.3"
Please note that this item is the cookie cutter only. All molds are sold separately.