---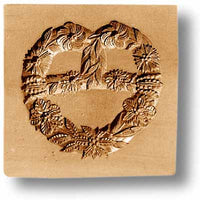 Description: The earliest recorded evidence of a pretzel was found on the crest of a German bakers' guild dating to the year 1111! Our pretzel mold is covered with a bounty of flowers. 
Size: 3.7" x 3.6" (9.3 cm x 9.1 cm)
Discover how easy it is to roll consistently thick springerle dough with our Wooden Dough Thickness Guides.