---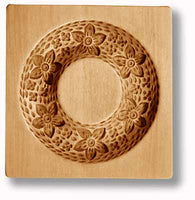 Description: The combination of flowers and ring of garland symbolize happiness, fertility and a new beginning. This mold is a reproduction of a carving dating to the 1800's.
Size: 7.0 x 7.2 cm (2.8" x 2.8")
Discover how easy it is to roll consistently thick springerle dough with our Wooden Dough Thickness Guides.