---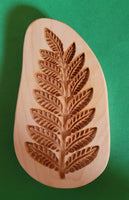 Description: Our newest design! In the cool shade of deep woods, the fern thrives! This mold is the perfect partner to accompany many of our flower molds such as Three Rosettes, Sunflower, or Four Flower Blooms. 

This mold is carved in a 1" thick maple block.  
Cookie Cutter: Fern
Size: 4-3/8" x 2-3/8"