---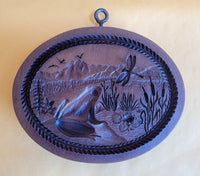 Description: The idyllic cookie mold "Summer" is perfect for a treat in the summer time. A frog watches as a dragonfly whizzes past. In the background are lily pads and a lotus flower; cat tails; mountains, birds, and water. Made in the USA by House on the Hill.
Size: 3.875" x 3.125"
Cookie Cutter: Four Seasons Oval Cutter

Discover how easy it is to roll consistently thick springerle dough with our Dough Thickness Guides. 

Demonstration: House on the Hill Video Demo