---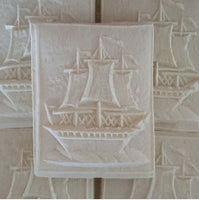 Description: Barque (or three masted sailing ship) with colors flying in the breeze. Imagine a voyage with intrepid voyagers following the sweet call of the sea to explore distant lands.
Perfect complement to an ocean, boat, or beach theme. Also makes a lovely choice for Father's Day, Thanksgiving, or Christmas, as an ode to the song:
"I saw three ships come sailing in
On Christmas Day, on Christmas Day..."
Size: 2.375" x 3"
Discover how easy it is to roll consistently thick springerle dough with our Dough Thickness Guides.