---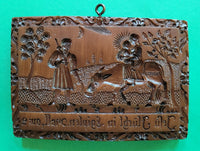 Description: Joseph and Mary Flight to Egypt springerle cookie mold by House on the Hill. Wonderful details on this antique reproduction include two trees, moon in the sky, ornate flower and scroll border, donkey, and German text.
You may also like the sister mold to this one: Rectangular Nativity.
Size: 5.5" x 3.75"

Discover how easy it is to roll consistently thick springerle dough with our Dough Thickness Guides. 
Demonstration: House on the Hill Video Demo