---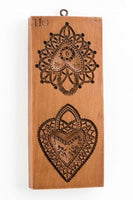 Description: Multi-image mold featuring two highly detailed hearts. The top image evokes memories of vintage Battenberg lace. The bottom features tiny flower bouquets and a garland in the center. Lovely for Valentine's Day, weddings, anniversaries, or any time love is in the air. We also offer matching cookie cutters for this mold.

Size: 3.0" x 7.25"
Matching Cookie Cutter: House on the Hill Two Hearts
Discover how easy it is to roll consistently thick springerle dough with our Dough Thickness Guides. 

Demonstration: House on the Hill Video Demo