---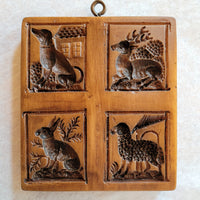 Description: Four different images in one: Petting Zoo Springerle Cookie mold by House on the Hill. The four sections can be left as one; or easily divided with a bench knife or straight edge--no special cookie cutter is required. Images feature a dog, deer, rabbit, and lamb.
Size: 3.25" x 3.625"
Cookie Cutter Suggestion: Straight Fluted Edge
Discover how easy it is to roll consistently thick springerle dough with our Dough Thickness Guides. 
Demonstration: House on the Hill Video Demo